<![if !vml]>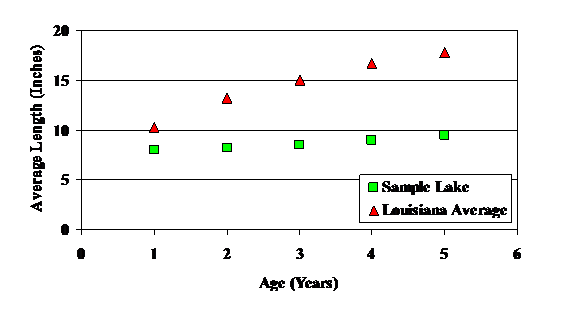 <![endif]>
Average length at age of largemouth bass from Sample Lake compared to Louisiana state-wide averages. This graph indicates severe stunting of Sample Lake bass.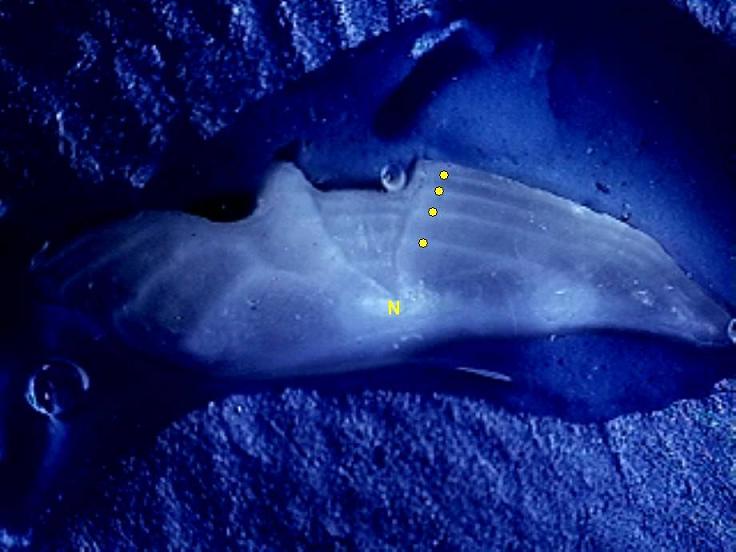 Cross section of an otolith showing the nucleus (N) and annual growth rings (dots). This bass
was four years old.
Knowing the growth rates of your fish is important, especially if large fish are desired. An accurate idea of the growth rates of your fish can be very useful in assessing whether you have adequate forage and habitat available. Most largemouth bass in Louisiana live for eight years or less, so the faster they grow, the better chance they have of attaining trophy weights.
Much like trees, annual rings on scales and other "hard parts" of fish are developed during alternating periods of fast (spring, summer, and fall) and slow (winter) growth. Fish from the northern hemisphere are assumed to have a hatch date of January 1, so a fish is considered to be age 0 (young-of-the-year) from the time it is hatched until the following January 1. The same fish is considered to be age 1 for an entire year beginning on January 1 of the next year, age 2 during the following calendar year, and so on.
Ages derived from otoliths (ear bones) of bass are very accurate, but please note that the sample fish must be killed for this procedure. We occasionally use scale samples, which don't harm the fish. Unfortunately, ages obtained from scales collected in the southern US are not as accurate as those from otoliths due to the mild winters, but we try to get as large a sample size as possible to obtain a useful average.
Fish are normally aged in autumn. Otoliths are broken though the center, sanded, imbedded in clay, and the cross sections viewed under a microscope so the annual rings can be counted. If scales are used, plastic impressions of several scales from each fish are viewed under a microscope.